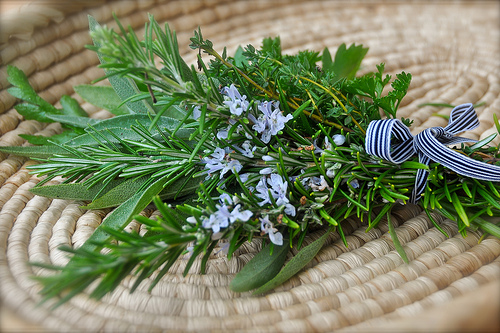 Rosemary and Sage: Not Just for Soups and Stews
Rosemary and sage are an aromatic addition to many home recipes, but did you know that they can treat a variety of hair and skin problems, too?
Rosemary, also known as rosmarinus officinalis, can reduce hair fall out and improve hair growth due to two main ingredients, caffeic acid and rosmaricinic acid. It also helps the pigmentation process to help hair retain its color. If your scalp is dry, itchy or has dandruff, rosemary is an effective remedy.
Sage, scientifically named salvia officinalis, is another herb that is commonly used for natural hair care. This is because sage is full of nutrients like vitamins A, B and C, as well as minerals like potassium and calcium. Just like rosemary, sage can help prevent premature graying naturally.
Here's how to create a remedy using them together:
Gather a half cup of rosemary and a half cup of sage.
Add to two cups of water and bring to a boil.
Let this solution sit for at least two hours before straining.
Shampoo your hair and use this mixture as a hair rinse afterward.
Rinse it out after it dries completely or after approximately 15 to 20 minutes.
Repeat this treatment once a week.
Sage, Rosemary and Peppermint Oil Scalp Massage Treatment
The application of herbal oils on a regular basis may help treat scalp infections and stimulate the growth of new hair. Here's another quick treatment you can try in the comfort of your own home:
Combine three to four drops of sage, rosemary and peppermint oil with a tablespoon of olive oil. Massage it into your scalp gently once or twice a day for the best effects. You can apply it and leave it on overnight, too. Just cover your head with a towel or scarf after applying, and then shampoo it out in the morning. Be sure to rinse and dry your hair well afterwards.